There's always something magical that catches your eye at a wedding. Any photographer worth their salt knows when and where to capture those moments, freezing them in time.
The bride.
The grooms face when he sees his soon-to-be wife.
The reception hall.
The bouquet.
The blow jobs.
Wait, what?!
Blow jobs and weddings don't exactly go together—not directly, anyway—but this week's featured photographer found a way to marry the two (pun intended, of course).
Michel Klooster took the shot heard round the world last fall and has been riding its momentum ever since. The beautiful setting draws you in, the groom's blue tux catches your eye, and then your focus shifts to a bride on her knees, taking husband and wife's first kiss a little further south than usual.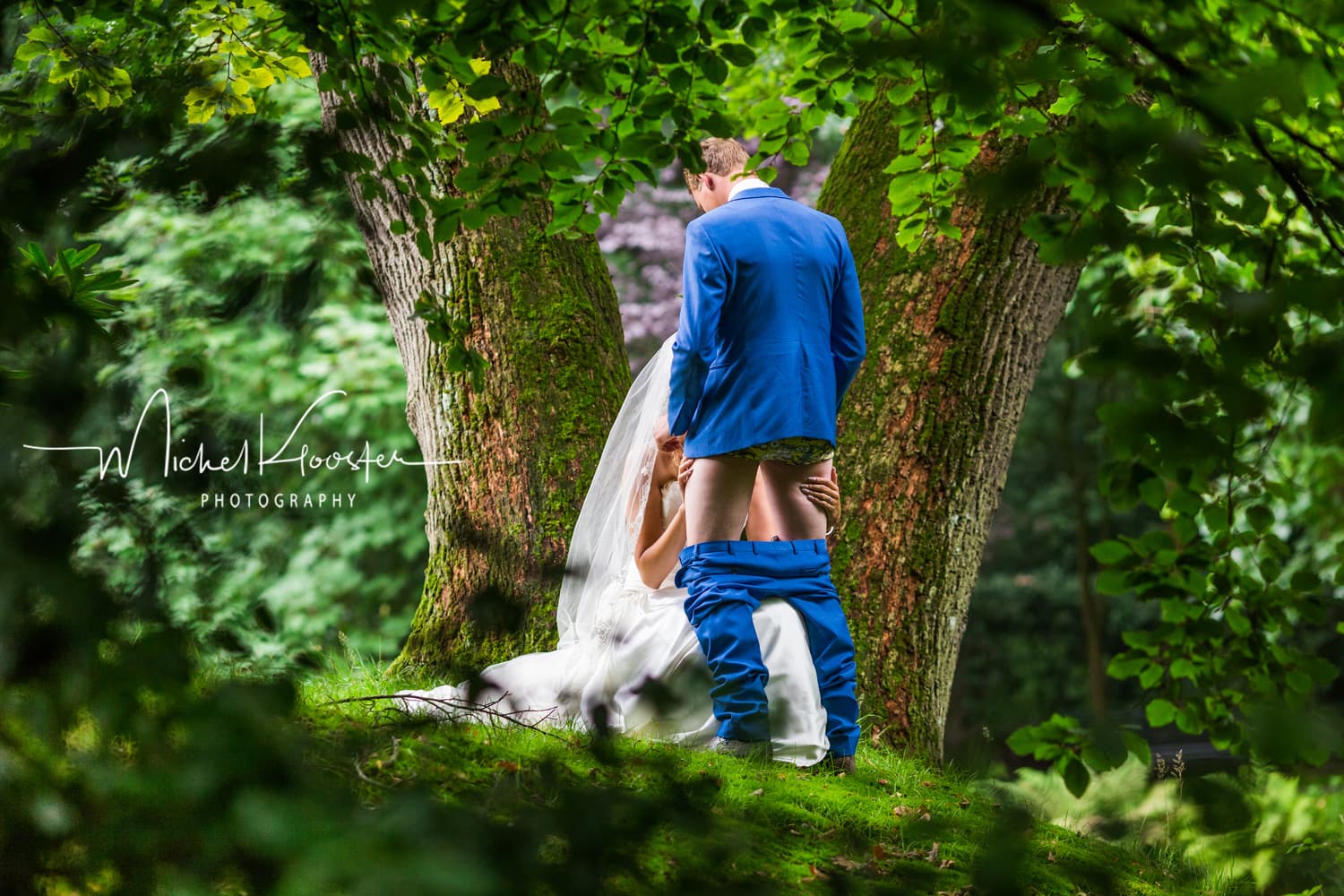 Once Klooster posted this picture to his Facebook page, the photo spread like wildfire. It's not everyday that you see an elegant wedding photo and oral sex paired together.
What makes Michel's photo unique–aside from the whole blow job thing–is the fact that we knew it was his in the first place. Photos go viral all the time, but because of his Photologo watermark subtly staged to the left of the iconic scene, anyone with a good set of eyes could see who crafted it. The signature doesn't add or take away from the genius of the shot, but it makes it pretty simple to see who to contact if you're looking for a photographer who can be creative behind the lens.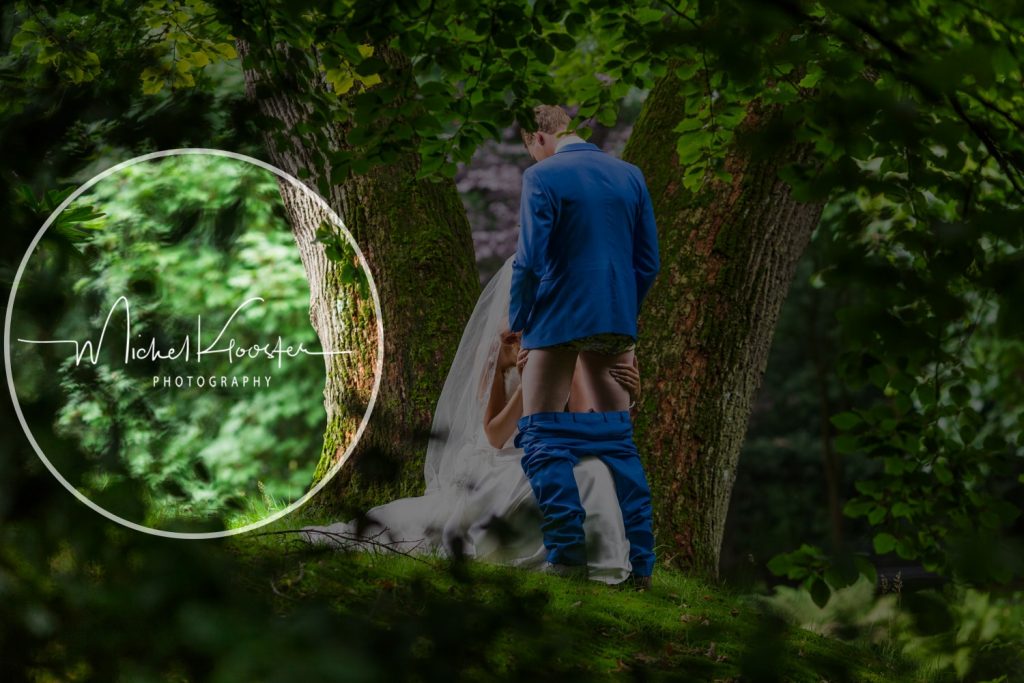 Because it was so easy to trace the work back to Klooster, his phone began ringing off the hook. People from far and wide wanted him to do something unique for them on their wedding day, just as he had for this lucky couple in the photo above.
He's not just a one photo pony, either. He's got some serious skills. His photography chops span the realms of architecture, nature, portraits, and weddings. With that in mind, we sat down with Michel to chat about his photography experience, how it feels to have a photo go viral, and what effect his Photologo has had on his photography business.
Here are the highlights of what Klooster had to say at our exclusive 1 on 1 interview. Check out the full video of our conversation at the bottom of this article!
When did you start photography?
"I've been doing photography professionally for 12 years, 4 of those year being full time. But my love and passion for photography has been with me for about 40 years, now."
What does photography mean to you?
"At its very core, seeing a photo from my point of view is the most important thing to me.
If I can capture the way that I see what's in front of me, I've done my job."
What type of photography is your favourite?
"My favorite type of photography is landscape photography. I'm not just a wedding photographer, but mostly I do family and landscape, business, feminine portraits, etc."
What was the reaction like to this photo? Do you think the watermark on your viral photo helped new customers find you easier?
"People always ask me about the famous blow job photo. To me, it's just a normal photo I made. I was really surprised by the reaction to it, because I just did a simple Facebook post and all the sudden it was around the world.
The best reactions I had were in the Netherlands, because they are more open minded. People all over the world reacted, thought and wondered who could I be, since it was a creative photo.
Having put my Photologo logo on it, it fueled me to become famous because everyone knew I took that photo.
About 4 weeks after I showed the world this photo, another photographer in Greece (I don't know who he was) took the same photo. I don't know who he is because he didn't have a watermark, and I wasn't going to spend time to research him. Funny enough, because of his photo, all weddings became cancelled on their island after that because the priest reacted poorly to it."
Were you surprised that they wanted a photo like that?
The mother in law actually came up with the idea of the photo. I loved the idea, cause we were going to get a great laugh about it. For me it was a photo for fun and the couple saw it as being fun. We were laughing the whole time about the crazy idea.
Why did you choose to go with photologo.co for your signature logo?
"I chose Photologo because it looked nice, like I signed it myself and it was easy to order. I did not want a bad looking watermark for my work. Even years later, people still find me because of my name on that photo.
Do you have any big plans for your business this year?
"This year I'm going to start a YouTube channel and do some workshops, check them out on my website!" (http://www.mvdklooster.nl/)
Would you recommend photologo.co to other photographers and why?
"Absolutely! I used a logo from Photologo to mark my photo before sharing it, and that is a huge part of why so many people came to me and found out who I was from that viral photo."
Thanks so much for chatting with us, Michel. We had a blast getting to know you and are thrilled that your Photologo has kept the buzz of this photo where it belongs: with the photographer who was brave enough to capture such an edgy shots.
His name went along for the ride, with nearly every publication keeping his watermark in the image, it kept him in the spotlight he deserved, without damaging or hurting his image like most watermarks do. Because of the elegant Photologo watermark finding its way into this photo, people from around the globe know who Michel Klooster is.
If you, like Klooster, don't want to damage your photos but want to ensure that your name gets the credit it deserves, Photologo, a company dedicated to making the worlds most beautiful hand-crafted logo for Photographers is offering a rare Fstoppers discount of 15% off through the end of February to all Fstoppers readers!
Photologo's are so beautiful that many photographers even turn it into their own brand logo.